The Crossing
A Queer Sci-Fi Told With Brand New Words
Format:
Performance, Film-Adaptation
Premiere:
28 Feb - 13 Mar 2023*
Venue:
Ballhaus Ost,
www.ballhausost.de
Language:
Damiá (with English & German subtitles)
Duration:
75 min
Film on demand:
Available to view below
* Live performance premiere, 27-30 October 2022, cancelled due to COVID.
Direction, text, performance, design: Chris Gylee & Aslan
Cinematography: Ethan Allison Folk
Editing: Ethan Allison Folk, ONCE WE WERE ISLANDS
Light design: Elliott Cennetoglu
Sound design: Mars Dietz
German translation: Lea Martini
Outside eye: Mmakgosi Kgabi
Photography: Óscar González
Banner design: Elena Polzer
Poster design: Kruse & Müller
Surtitling support: Panthea
Featured music: Girls in Airports
Production management: ehrliche arbeit — freies Kulturbüro

Funded by: Hauptstadtkulturfonds.
Kindly supported by: Hiljaisuus / Silence Residency


"Heaal ten iaa mo silé mo cacsel vai dol-dol
Cacsel zeza ten taa caden sie ga
A iaa t-helia silé mo helia maa?
A iaa benai sibé mo donia mazze?"

Somewhere across an unimaginable void, set apart from the rest of humanity, lies a world inhabited only by Queer people. A utopia for sure. But how long would it take for the storm clouds to gather even here? The Crossing is the story of how fault lines arise and drive a dissident back across the void to their former home in search of answers to painful questions:

How do we face up to the failure of our ideals?
In the face of inevitable compromise, how do we remain true to ourselves?
A crumbling theatre in a future Berlin, a city struggling to find its feet again after a series of great upheavals. The dissident stands before an audience. They once burned with zeal for their new home. But now, they find themselves cast out, unable to conform or stay silent. In brand new words, they tell us the story of their journey back home.

Written and performed entirely in Damiá, a Queer art-language developed by Aslan since they were a teenager, The Crossing was originally conceived of as a live stage performance. This film adaptation was created after the premiere and 2022 shows were cancelled due to COVID. The film is available online, free of charge, for two weeks from 28th February to 13th March 2023. The text is translated for the audience with subtitles into English and German.

The Crossing asks: Could a revolutionary Queer language be the place where we finally build our home?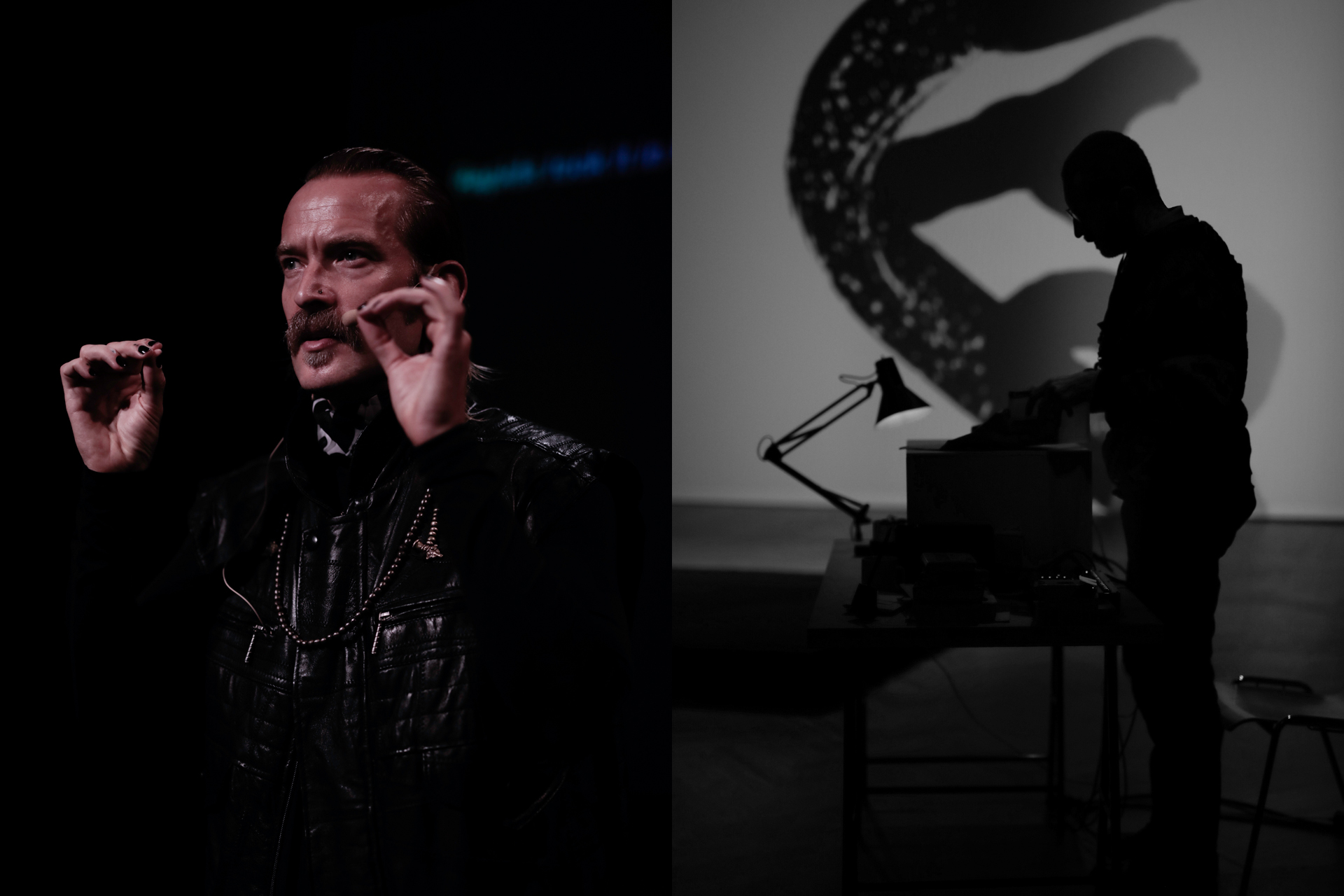 The above images include photography by Óscar González.

The Crossing is a ONCE WE WERE ISLANDS production in cooperation with Ballhaus Ost. Kindly supported by Hiljaisuus / Silence Residency.

Additional thanks to: the team at Ballhaus Ost; David Maß at Panthea; Inky Lee; Girls in Airports; Kat and Maja at Kaja Management; the staff at the National Archives and Records Administration, and at the Ronald Reagan Library; the film-makers of all of the collaged archive footage; the team at Theaterwerkstatt Pilkentafel for the initial writing residency; Hiljaisuus / Silence Residency and the people of Kaukonen village, Finland.